Workers' Compensation
Attorneys Assisting Injured Employees in Greater New York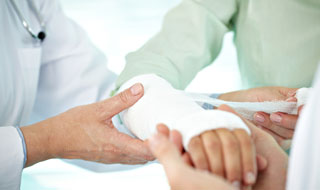 If you have recently been injured on the job, you may have many questions and concerns going through your mind. Employees suffering from a work-related accident or illness may be wondering about their ability to afford medical costs or continue to support a family. At the Law Firm of Valerie J. Crown, our work injury lawyers can help residents of Rockland County and elsewhere in Greater New York work through these issues and any others that arise as you pursue workers' compensation benefits. We can use our three decades of legal knowledge and experience to help you assert your rights, and our firm's small size allows us to give you the personalized attention that you deserve. Valerie J. Crown is always available through her cell phone, and your call will go straight to her without an automated message or answering service. She is proud to help members of her community in their times of need.
Asserting Your Right to Workers' Compensation Benefits
Generally, any workplace accident arising out of and in the course of an individual's employment is compensable. Certain occupational diseases that develop over time also may be covered. Unlike in traditional negligence cases, an injured worker does not have to prove that the employer was responsible for the accident. These benefits are available without a demonstration of any party's fault, and the process is intended to proceed more efficiently than a lawsuit.
There may be several types of benefits available to injured employees under the workers' compensation laws of New York. First, an employer (or its insurer) may be liable for all necessary medical expenses that are directly related to the worker's harm. Some of the more common medical expenses for which an employer may be responsible include:
Emergency room care;
X-rays and other diagnostic tests;
Prescription medication; and
Doctors' fees.
The particular benefits to which an individual may be entitled varies depending upon the nature and extent of the injuries suffered. The employee also may be able to receive reimbursement for travel expenses for medical appointments.
In addition to medical benefits, injured workers may also be eligible for temporary disability benefits if their accident or illness keeps them from performing their job duties for more than seven days. An employee is not entitled to disability benefits during the first seven days unless he or she loses at least 14 days of work.
There are two kinds of temporary disability benefits: total and partial. Total disability benefits are triggered when an employee is not able to work at all. Temporary partial disability benefits is for the employee who may be able to do some type of work even though it may not be in his or her own field of experience, so that the employee can still receive monetary benefits but at a reduced amount. Again, such benefits are subject to caps set by state law.
If a job-related accident or illness causes a permanent disability, whether partial or total, the worker may be able to seek an award to compensate him or her for the loss of use of the affected body part or the percentage of overall disability. The determination of the amount due is usually based upon the opinions of the treating doctor and the insurance company's medical examiner subject to the approval of a workers' compensation judge. You need the law firm of Valerie J. Crown to negotiate the best possible permanent award for you. We can also help ensure that you receive the medical care and the monetary award you deserve.
Legal Guidance for Employees Seeking Workers' Compensation in Rockland County or Beyond
If you have been hurt at your job, you need to notify your employer of the injury and seek appropriate medical care. In many instances, such as when an employer denies benefits, the next logical step is to contact an experienced workers' compensation benefits attorney to protect your rights. Serving injured employees in Rockland and Orange Counties, among other areas throughout New York State, the Law Firm of Valerie J. Crown is ready to assist you. You can schedule an appointment with us by completing our contact form or calling 845.708.5900 or calling Valerie's cell phone at 845.598.8253. We can listen to the details of your case and advise you on your legal rights and options.
If you find that your injury leads to a disability preventing your return to work, we have the experience in both Social Security Disability and Workers Compensation law to ensure your complete financial security.